5 Best Mother Of The Bride Gifts (That She'll Love)
Your wedding day is easily the best day of your life but also a special day for your mom as well. Many parents think of this day since you were a little girl and it's hard for them to imagine that their little girl is getting married. It's a time for both parents that tends to be bitter-sweet. They are happy to send you off with the man of your dreams but also sad knowing your aren't under their provision any longer. Choosing the right mother of the bride gift doesn't have to be complicating.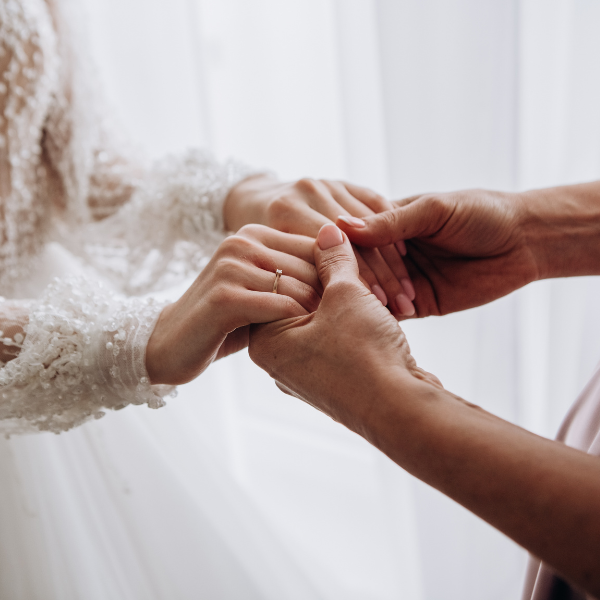 Mom, the 3 letter word that instantly brings comfort. When you think of your mom you think of comfort and love. Our mother's are always there for us, whether you are 4 years old or 45 years old. Their love truly never stops growing and they support us through every milestone. Cheering us on, always providing a shoulder to cry on, and extending love no matter what. They are so special and it's important to remember on your big day that it may be tough on your momma's heart to see you get married. Which is why it's important to get her a the perfect gift to remind her that you will always be her little girl and that you love her equally as much! It's also a great time to get your future mother-in-law a gift as well, it can be equally special for both sides of the family.
When To Give The Mother Of The Bride Gift?
That is a great question and it all depends on the type of gift you buy for her! If it's a gift she can wear on the day of your wedding, it may be best to give it at the rehearsal dinner or the morning of the wedding. If it's a sentimental gift you can always give it after your wedding or several days before the big day to make it extra special for her. Thankfully now a days there are so many options to give a unique mother of the bride gift. Whether you are planning to elope or planning to get married quickly, there is plenty of time to get the perfect gift for her!
Should You Give A Gift To The Mother Of The Groom?
​It really is a personal preference but common etiquette is to give her a gift. This is a thoughtful way to let her know you are thinking of her and that her son is in great hands! The mother of the groom is just as important as the mother of the bride because without her, you wouldn't have met your fiance'. She actually plays a big part in this whole process too! She has loved, nurtured, and raised the man of your dreams. In most cases, he is who he is because of how his parents raised him. She's is your new mother-in-law and looks forward to this day as much as your mom does too! 
Thoughtful Mother Of The Bride Gifts
Jewelry
What better way to say I love and appreciate you than jewelry. There are some beautiful sterling silver, rose gold, or even diamond necklaces and earrings out there. This would be the perfect necklace to give your mom. A beautiful diamond necklace with a personalized note telling her how much you love and appreciate her. You can even toss in a pair of earrings if you find a matching set. It truly is the perfect present! If you are wanting to give something to the mother of the groom this beautiful dainty pearl bracelet is perfect. Jewelry is a meaningful gift because it reminds your mother of you every time she wears it. Sort of like a friendship necklace but way more special.
Keepsake Handkerchief
These are one of the most popular gifts to give. Not only to the mother of the bride but the father as well! Personalized handkerchiefs are a great personalized gift. You can add a heartfelt message that would mean the most to your parents. It's a token of appreciation to both parents and is a beautiful addition to your wedding day. Bonus points if you get one for your in-laws as well! This is a sweet reminder that your fiance' is in good hands and they are loved as well. These personalized handkerchief's on Etsy are absolutely beautiful!
Mother Of The Bride Mug
Who doesn't love a beautiful personalized mug reminding them who they are? A mother of the bride mug can be given to your mom a few months in advance so she can really enjoy this process. It can remind her of the good that's about to come. You can also buy a personalized mug to give after the wedding with a watercolored picture of you and your mom on your special day like this one. This is such a memorable keepsake and great idea! There are even mugs that say "mother of the groom" so your mother-in-law doesn't feel left out.
Custom Picture Frames
This is a sweet & memorable gift to give after the wedding to remind your mom of your wedding day. We all know moms love to showcase their children especially from special occasions such as their wedding day. There are so many beautiful picture frames that have thoughtful words on them. It's a great way to remind your mom that you love her and appreciate her. This really is the perfect mother of the bride gift since it is a custom gift and is a great reminder of how beautiful your wedding day was. This would of course be given after the wedding once you can print a picture of you two from the big day. You can get a matching frame for you your in-laws as well with a picture of your husband and his parents.
Gift Card
This may be a small gift but it's still a special gift because you know your mom best! You can purchase a gift card to her favorite nail salon or maybe even to her favorite spa. Something that she will truly enjoy. You can even make a little gift bundle or gift box for her! A beautiful tote bag would be a great gift set bag and inside you can incorporate her gift card along with her favorite items. Such as a coffee mug, robe, and matching slippers. Something simple, yet so sweet. This can be given either the day of the wedding or at the time of your rehearsal dinner.
These are some thoughtful gift ideas to present to the mother of the bride and your new mother in law. Of course you can personalize any of these to make it more special and to match the budget that you may have. Whatever you decide to give to your mom for your big day, will be cherished and loved forever. It truly is such a special time for all parties involved and memorable gifts such as the one listed above will bring back beautiful memories from your big day.
What are some gift ideas you think your mom would you enjoy for your wedding day? Let us know in the comments below.
From all of us here at Oui Jolie Bride, congratulations and may your big day be filled with joy and unforgettable memories!