4 Of The Best Wedding Dresses & Designers For Fall
We at Oui Jolie love to talk about all things bridal. As a bridal boutique that carries designer dresses, we understand you want the best wedding gown for your big day. Part of choosing your wedding dress is finding one that goes with the season you choose to get married in. In this blog post we'll share the best wedding dresses and dress designers for fall weddings.
It's the most exciting time for you and your fiance'. You've got the bling, now you need a beautiful dress to say "I do" in. We've got you covered, no need to fret it's much easier than you think. A lot of brides tend to get overwhelmed when it comes to choosing their dream dress. This is simply because there are SO many styles, fabrics, and designers to choose from. When considering your wedding dress, one important thing to consider is the time of year you're getting married. If you are planning a fall wedding, depending on where you live, there may be cooler temperatures. If that's the case, you may want a dress that has a heavier fabric or maybe even long sleeves.
In some regions of the country fall can be a lot warmer. In that case you may be able to rock the puff sleeves, airy sleeves, or even a beautiful open back. Some brides on the other hand may not care about the temperatures though. This is a one time thing, so if it's an autumn wedding that has colder temps and you want a wedding dress that isn't warm, go for it. You can always put a nice fur shawl or coverup on during the wedding ceremony. Especially if you are wanting an outdoor wedding. There really isn't a dress code when it comes to choosing your dress. However there are some wedding dresses out there that are geared more toward fall weddings.
How To Choose Your Dream Wedding Dress
When shopping for your dream dress we may have a different approach than most. At Oui Jolie Bride we've learned so much in the past 25 years of being in the bridal industry. Here are a few things to consider when looking for your dream wedding dress:
Stick with one place: Yes we know this is completely opposite of what others say. Here's why, brides get too overwhelmed when they go to 10 different bridal shops. We have seen it time and time again, the bride gets overwhelmed and sort of burnt out from trying on SO MANY dresses. Most will say "the more the better" but truly, it promotes confusion. Take away the overwhelm and trust us, you will have so much more peace sticking with one bridal shop that you feel truly comfortable at.
Bring those who are closest to you & that you trust: a large crowd means more conflicting opinions. Sometimes large crowds can be great if everyone is supportive. They're not so great when some have strong opinions and aren't very mindful of their words. We have seen this so many times, a bride falls in love with a dress only to be confused that a family member thinks differently. Invite those who truly love and support your opinion. This will save lots of stress!
Check out dress styles on Pinterest before your reservation: This will give you a great idea of what you want to try on. We do recommend still trying on different style dresses, just to make sure you're not missing out. This way you know you tried on a variety of styles too!
Go with an open mind: Try on things you may not even think you would like. You would be so surprised at the amount of brides who end up saying yes to a dress completely opposite of what they thought they wanted. It happens almost every appointment.
Best Wedding Dresses For Autumn Weddings
Below are all dresses Oui Jolie carries that would be the perfect fall wedding dress options. There are so many different styles and designers to choose from in our bridal collections but these are our top picks for the fall season. These gorgeous gowns make a great choice whether it's a cool fall day or warm fall day.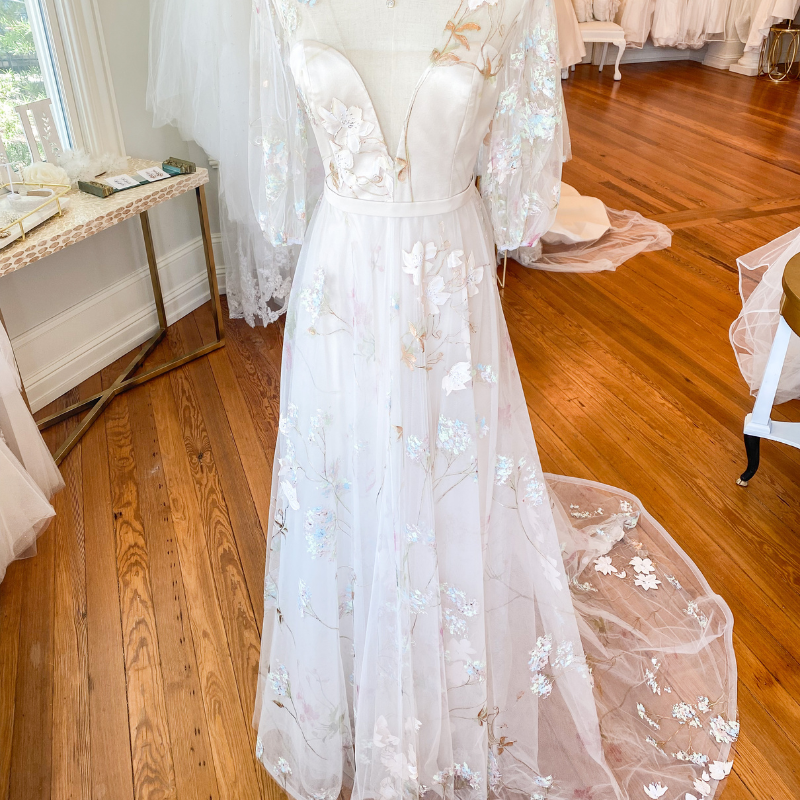 Della By House Of Savin
This girl is a beauty! House of Savin is a couture bridal gown designer based out of London. Their dresses are carefully designed with exquisite craftsmanship and they are absolutely stunning. House of Savin offers quality and very unique bridal gowns. Most have stunning floral designs that are hand painted in Italy, similar to floral appliqués. Their dresses truly are a blend of timeless elegance. Della, the dress listed above, is a beautiful option for brides who like dresses that are not so traditional. The low cut front V makes for a romantic look, along with the beautiful hand painted floral designs in different colors. The 3/4 in gorgeous sleeves add extra warmth to the Della making it ideal for garden or beach weddings. When it comes to floral print on a wedding dress, it really is a personal preference. Every bride is different in their style and we find Della to be the perfect subtle statement designer gown for any wedding day.
Blush By Luce + Sposa
Blush by Luce + Sposa is a TRUE statement. I mean look at this amazing dress with it's tiered ruffle skirt. Truly a dream dress for those who like to pass a good time and love rich jewel tones in their life. We are also loving the long sheer gloves because they give an off the shoulder ruffle feel. It adds the perfect amount of class to this beautiful gown. Not to mention the ruffled long train, just stunning. Because of the many layers of this dress, it would be ideal for cooler fall days. Unless of course you have an indoor wedding, this show stopper can be worn year around. The good news is, there aren't many rules when it comes to choosing your dream dress. It's your big day and if you want a statement piece, this is your gown.  
Condesa By Pronovias Atelier
This is a beautifully simple dress by Pronovias Atelier. If you are a bride who has more of a simple and soft style, this is your gown. The beautiful long sleeves with the touch of lace on each side make for the perfect fall dress. Simple fall wedding dresses can be fairly easy to find and we are loving this one, especially for cooler climates. The longer sleeves are perfect for keeping warm during outdoor ceremonies as well. The Condesa is simply a classic style wedding dress that will hug your curves in all the right places.
Jasmine by Luce + Sposa
Planning a beautiful fall garden wedding? Look at this amazing gown by Luce + Sposa. Truly an enchanting dress and style that give all of the fall feels. The Jasmine is our top pick for our favorite fall wedding dresses. We love that it adds simplicity and fairytale wedding in one dress. The fitted bodice with tulle and lace gives a beautiful romantic look. Imagine this dress with a beautiful backdrop such as a flower arch, it would make for incredible photographs! We also love that this dress is versatile, it can be worn during summer weddings or fall weddings thanks to the breathable fabric.
These are 4 of our top picks for fall wedding dresses and designers. As you can see that are so many different styles when it comes to choosing your dream dress. Thankfully, it doesn't have to be confusing or difficult. We hope this broke down the different styles and gave you an idea of what to look for when trying to find a wedding dress for your fall wedding.
At Oui Jolie, we carry many different designers and dresses. We love unique and beautiful dresses that come from designers all around the world. To try on any of these dresses or to check our other bridal designers you can check our website here. We welcome you to come say Jai di oui at Oui Jolie Bride in the small quaint cajun town of Broussard, Louisiana. A truly unforgettable experience awaits. Our bridal boutique, located inside our beautifully remodeled historic home have luxurious bridal suites to accommodate you and your crew. We can't wait to meet you!
We'd love to hear from you! Let us know in the comments below, which wedding dress fits your style best?