How Much Does A Wedding Dress Really Cost in 2023
You've got the ring now it's time to look for the long awaited dream dress. Many girls have dreamed of this moment their entire life. Your wedding dress is the one thing you will remember for a lifetime and you want it to be special. Most know, of course, a beautiful wedding dress does come with a price tag. In todays post we'll go over the different budgets and what to expect when buying the dress of your dreams.
At Oui Jolie Bride, we know first hand how much dresses cost. Not only how much they cost, but the quality you want to look for when it comes to spending money on such an important dress. This is your big day, you want to make sure you have a dress that is nothing short of stunning. And of course, who doesn't want to wow their groom when walking down the aisle with an elegant wedding gown.  No pressure!
When talking about wedding dresses, you want to think about designers, dress style, and budget. Are there certain designers you LOVE and hope to buy a dress from? Maybe there's a certain style dress you love. Do you have a lower budget or higher budget? Thankfully there are so many amazing options no matter what budget or style you lean towards. 
What's The Average Cost of Wedding Dresses in America?
The national average cost of a wedding dress in the United States is $1,800-$2,500. With that average cost there is some wiggle room for dresses to be a little lower than $1,800 and some more than $2,500. This is not including additional costs such as rush fees, accessories, shoes, or wedding dress alterations. This should give you a general baseline before starting to look for wedding gowns. Some bridal shops will carry designer dresses, like Oui Jolie Bride, with higher prices. While others will have private label designers such as A-Net's Bridal, with slightly smaller price tags. Bridal shops that carry designer dresses can range anywhere from $1,800-$12,000. While average bridal shops will range from $1,300-$2,000. As you can see both are very different with how much money you would spend. A quick search in weddingwire can help point you in the right direction when looking for a bridal shop with your budget. 
The price also will depends on where in the US you plan to go dress shopping. Of course dresses in New York City will be on the higher end of the price spectrum. Whereas places like Mississippi or Alabama have lower costs according to a quick google search. Ultimately though, it all depends on the bridal shop. Every area will have bridal shops who carry more expensive dresses and also shops who have off the rack dresses for a cheaper price.
What's The Average Cost of Wedding Dresses in Other Countries?
The cost of wedding dresses will also vary depending on the area of the world you are buying from. The average wedding dress cost in Canada is $1,500. The average wedding dress prices in United Kingdom is 2,083 euros translating to $2,955 US dollars. In Australia, the average cost is $2,385, that's $1,520 US dollars.
What's The Average Cost Of A Designer Wedding Dress?
Many brides are interested in finding a designer gown for many reasons. The quality, the stunning appearance of them, the high-quality materials used are luxurious, and simply because they fit so perfectly. Designers like House of Savin, Kim Kasas, Pronovias Atelier, Lea-Ann Belter, Elysee, Paloma Blanca, and Calla Blanche are all very well known for their incredible wedding gowns. At Oui Jolie, we carry all of these designers and can agree that their quality is far and beyond anything we've ever seen before. Breathtaking lace, bling, embellishment, and fabrics engulf these beautiful dresses. Truly nothing you can find at department stores. Designer bridal gowns such as these have average price ranges anywhere from $2,500-$12,000. The cost of the dress will depend on the designer, dress style, and quality of the material.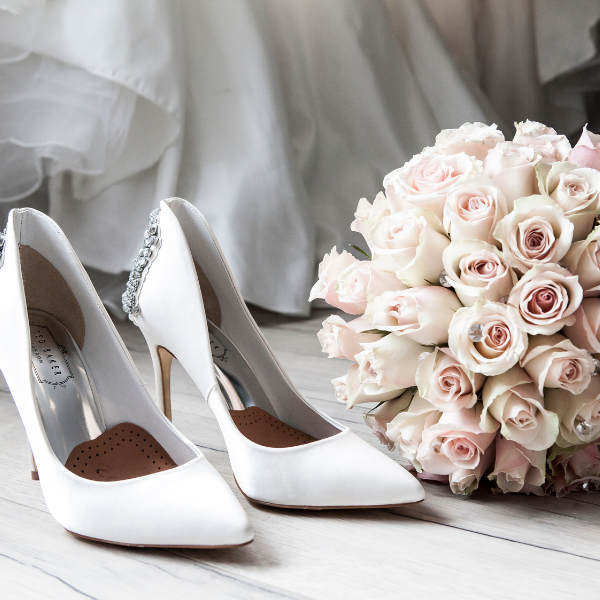 What Other Expenses Come With Buying A Wedding Dress?
Rush Fees
After you find your dress, you need to be aware of the other expenses that come with it. Most of the time when a bride finds her dress, the bridal shop will order your dress from the designer or company who curates that particular dress. If you are in need of a dress soon, you may have to pay for a rush fee to get your dress in on time. Keep in mind, most wedding dresses take anywhere from 4-6 months to arrive at the bridal shop you ordered from. So it's best to start dress shopping ASAP!
Alteration Fees
In some cases, brides can find a dress and get measured for their size without needing alterations. While that can happen, it is extremely rare since everyone woman's body type and build vary. Even though you get your dress ordered in your size, you may still need to take in a few areas. Wedding dress alterations can vary from $150-$700. Unfortunately, it's not a flat fee. It definitely can add up quickly especially if you plan to have things added on to your dress.
Special add ons
In some cases, brides may want to add on specific things to their wedding dress. Brides typically add on things like belts, sleeves, more jewels, pearls, or more fabric. You'll need to factor in the cost of the add on plus the additional cost the seamstress will charge to add it on. Some wedding dress designers can add on sleeves to your dress before shipping it to you as well.
Veils and Accessories
Veils and accessories can add up fairly quickly especially if you like the bling. The average cost for a wedding veil is around $200-$400. If you're looking for a lower price in this area, a more simple veil like a pretty tulle veil with no details will do the trick. It's a great option because it's simple, classy and affordable.
Accessories such as earrings, necklaces, bracelets, shawls, belts, or hair pieces are an additional touch most brides want. These all vary in price ranges depending on what style you prefer.
Wedding Shoes
This particular cost will depend on the person. If you want designer wedding shoes, you're looking at anywhere from $150-$1,000. It all depends on your preference and style. There are some very affordable & comfortable wedding shoes on Etsy such as these. They're handmade so you can personalize them to make it your style. Some brides go for a very unique style and wear converse which is a more affordable option of course. It all depends on your style and the theme of your wedding day. Go for what makes you feel most beautiful and shows your personality! 
When it comes to finding your perfect dress, knowing the cost going in is so important. It's important to know so that you can plan ahead and know exactly what to expect when buying your dream dress. At Oui Jolie Bride we cater to brides all around the country and would love to help you say Ja'i dit oui (she said yes) to the dress of your dreams. Whether your budget is $3,000 or $12,000 we have just what you're looking for and we can't wait to meet you. Come enjoy an experience like none other, in a small quaint french town located in South Louisiana!