The Most Popular & Flattering Wedding dress styles for every Bride
When it comes to wedding dress shopping, it's important to know the different style dresses. Not only the different style dresses but what will be most flattering on your body type. Every bride has an idea of which style dress they love before shopping. Surprisingly, you may end up with a style completely opposite than what you expected. In today's post we'll go over the many different styles of wedding dresses and which is right for your body type.
It's your big time to shine, you've waited for this day for so long. Your wedding dress is easily one of the most highly anticipated moments of your life. As a little girl. you probably dreamed of your wedding and the special dress you would wear. It's finally here and it's time to get excited! You also get to show of your dress, not only to your family, but your future husband. What an exciting moment it is indeed. Before going into your bridal appointment, take time to learn about the many different style wedding dresses that are out there. Some will be more flattering for your body type, while others may not compliment you like you were hoping for.
As a designer bridal shop, we have helped so many brides and know first hand which style works best for each bride. Every bride is so unique and we love to see their dreams become a reality by finding their dream dress with us. As funny as it sounds, many brides will come in with an idea of what they're looking for only to leave with something totally opposite. And that's ok, it just means you are a perfectly normal bride.
How Many Different Wedding Dress Styles Are There?
There are quite a few actually! So many beautiful classic styles to choose from. The best part is most bridal boutiques carry each style mentioned below. Here is a list of the wedding dress styles to consider for your wedding day.
A-Line
Ballgown
Mermaid
Fit and Flare
Column/Sheath
How Many Different Necklines Are There?
You may be wondering why a neckline would affect the way your dress fits. Surprisingly the style neckline you choose can make a HUGE different in how your dress looks on you. Here are the many different necklines to consider:
Sweetheart neckline
Halter neckline
V-Neck
How Many Different Sleeve Options Are There?
There are SO many different sleeve options when it comes to finding the right dress. Choosing the right style sleeve can also change up the look of the dress. It's important to try on dresses with a variety of sleeve styles so you can see what looks most flattering on your body type. Sleeves can also add an elegant look to your wedding dress. Keep in mind, if you find a dress without sleeves most designers can add sleeves onto a dress. At Oui Jolie Bride, this is something we are able to accommodate our brides with. Here are the different sleeve styles:
Ruffle Sleeves
Puffed Sleeves
Long Sleeves
Strapless (no sleeves)
Off the shoulder sleeves
Short Sleeves
Flutter Sleeves
Cap Sleeves
The dress style, neckline & sleeve type will all have an impact on how your dress will look on you. Every bride has a personal style and body type. What looks great on one bride may not look the best on another. This is perfectly normal since we all have unique body types. If you follow these simple tips you'll be able to find the most flattering fit for you big day!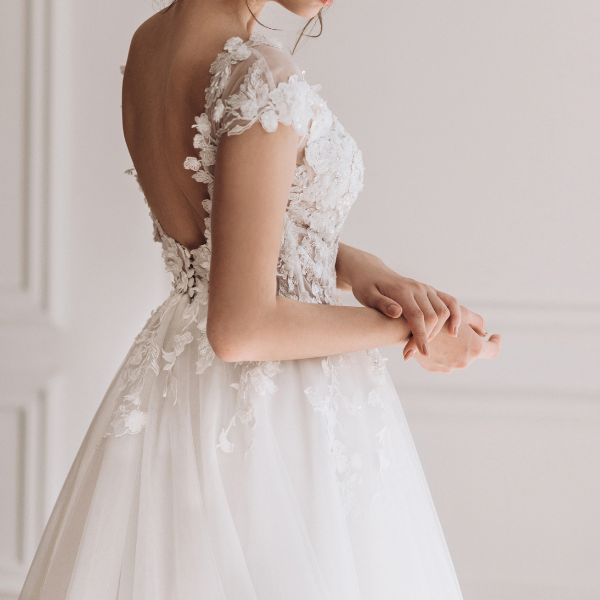 A-Line Wedding Dress Style
An A-line style wedding dress has a fitted bodice and skirt flares out from the waist in the shape of an "A". A-line gowns tend to look best on pear shape or curvy women. This style tends to be snug at the waist creating a slimmer waistline but also flattering the bust area. Many find this ideal for shorter brides too, A-line dresses can make a shorter bride look taller with its slimming effect. A-line is also a perfect fit for plus size brides thanks to the a-line silhouette.
Ballgown Wedding Dress Style
Ballgown dresses have a fitted bodice similar to A-line but the skirt is is very voluminous and flares out from the waist. The full skirt is very distinct and is often referred to as a princess dress and truly looks stunning on the dance floor. Many find the ballgown style best for those who are slimmer but have a large bust area. The big skirt will help balance out the fitter bust area. Keep in mind if you have wider hips, a ball gown can bring out that area due to the volume of the skirt.
The many layers can add extra width if that is an area of concern for you! Each ball gown is different though, some are less puffy while other have many many layers. If you are worried about the extra volume you can always get the extra fabric removed to slim down the skirt a bit. Ballgown dresses are also perfect for a winter wedding since the extra material provides extra warmth.
Mermaid Wedding Dress Style
Mermaid style wedding dresses are the most fitted of them all. It features a fitted bodice and skirt but flares out dramatically below the knee. This creates a mermaid like silhouette. This style dresses emphasizes the hips and waist rather than narrowing them. Many find the mermaid style best for those with a slim body or those who are curvy. Keep in mind there are different styles of mermaid, some will be extremely tight while others will be more forgiving. This can be a very versatile style. Most brides like this style because it hugs you in all of the right places. It makes for the perfect dress!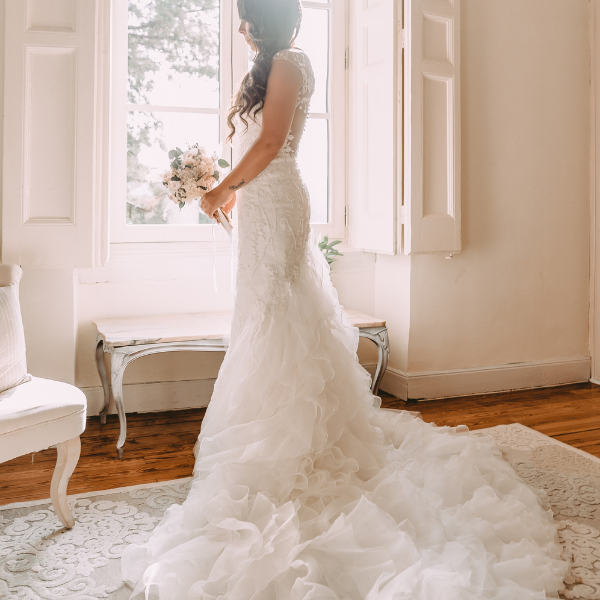 Fit And Flare Wedding Dress Style
Fit and flare styled dressing are very similar to mermaid style because it also has a fitted bodice and hugs the thighs and hips. Fit and flare will flare at or below the knee. The biggest difference between fit and flare and mermaid style is the size of the skirt. Fit and flare has a more subtle skirt and isn't as dramatic. Fit and flare is similar to the mermaid when it comes to different body types. Very versatile in that it hugs you in all of the right places. You'll notice with the fit and flare or mermaid, you'll usually get a longer train. This adds to the beauty of the dress as well, making your special day even more special, who doesn't love a long train?
Sheath Wedding Dress Style
Sheath style dresses are form fitting and don't have much of a flare. This style follows the natural shape of the body. It often has a straight skirt or a very subtle flare skirt. Ideal for petite brides since it give them more length making them look taller if that's what they are going for. Sheath style will give a taller bride more definition, since most long dresses can be tricky with tall brides. This style can be great for those with a boxy shape, adding a belt at the waist can also provide a more flattering style. Sheath style wedding dresses will normally have little to no train, if you aren't a huge fan of a train.
As you can see there are so many options when it comes to finding your dream dress. Many brides tend to get overwhelmed, not knowing which style will be best for their body type. But we find it best to try on every dress style and see what you like best on you! This post is just to give you a guide line, it's not a one size fits all approach with dress styles though. Every designer and each dress style will have certain attributes that will be more flattering than others. Keep in mind, the neckline you choose can make a dramatic difference in how a dress looks on you. We suggest trying on a variety of necklines and even sleeves too!
We would love to hear what style wedding dress you like best? Did you end up choosing a dress style opposite from what you were hoping for?